Return to Headlines
Experienced administrator selected to lead Arbor View Elementary
An experienced elementary educator and administrator will be the next principal at Arbor View Elementary School. Dawn McCray was unanimously approved as Arbor View's principal during the Board of Education meeting on Monday, July 17.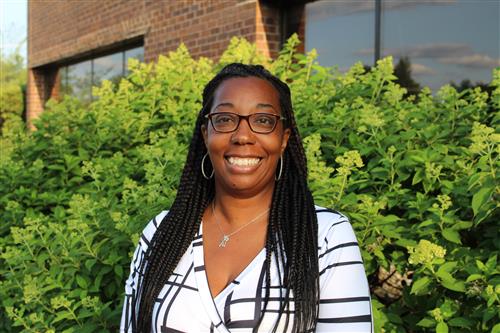 McCray has been the assistant principal at Pioneer Elementary School in Valley View School District 365 for the last four years. Prior to Pioneer School, she was the assistant principal at Hermansen Elementary School, also in the Valley View School District, for two years. She was a second-grade teacher for eight years in Romeoville and Joliet.
CCSD 89 Superintendent Doug Eccarius led the process to hire McCray. He gathered input from staff and families to determine the qualities they were looking for in their principal. Eccarius said McCray stood out for her high expectations for students and staff, the relationships she developed as a building leader, and her special-education experience.
"I am so excited we found a student-centered leader who comes to us with elementary administrative and teaching experience," Eccarius said. "It was evident during the interviews that Dawn will be a visible and approachable principal who will put the needs of students first. She will be a great addition to Arbor View, our school district, and our administrative team."
McCray earned her bachelor's degree in biological sciences and began her career working in a laboratory. When her son was born, she left the lab and began substitute teaching. She had long considered a teaching career; when McCray was a high school student, an influential administrator had encouraged McCray to pursue a career in education and nominated her for a Golden Apple teacher preparation award.
When McCray began substitute teaching, it immediately rekindled her love of working with young learners. She returned to school and earned her master's degree and teaching license from the University of St. Francis. She later earned a second master's degree (in educational leadership) and an administrative endorsement from Lewis University.
McCray was interested in applying at Arbor View because of the school's community feel. She is excited to meet the students and their families.
"If there is something they feel they need, they can reach out to me," McCray said. "I take their thoughts, recommendations, questions, and concerns seriously. I want to work with families to get the best education possible for Arbor View students."
Anyone who works with McCray will often hear her refer to the students as "her babies" because when they are at school with her, she cares for them like they are her own kids.
"When you drop them off with me, I will do everything that I would want someone to do for my children," she said. "I'm always going to do what is best for the children. That's at the core of who I am."
McCray and her husband recently celebrated their 20th wedding anniversary. They have two children: an 18-year-old son who will be attending Illinois State University in the fall and a 14-year-old daughter who will be a freshman next school year.
McCray replaces Emily Burnett, who was named the Director of Student Services and Human Resources in Salt Creek District 48.
Posted: July 17, 2023