Return to Headlines
Glen Crest eighth graders Grace Bittlingmaier, Aniyah Nelson selected as Student Board Members
Two outstanding student leaders were selected to serve as Student Representatives to the Board of Education in Community Consolidated School District 89. Glen Crest Middle School eighth-grade students Grace Bittlingmaier and Aniyah Nelson were introduced at Monday's Board of Education meeting.
"I am very excited that Aniyah and Grace will be bringing a student voice to the Board meetings," said CCSD 89 Superintendent Dr. Emily K. Tammaru. "There were so many incredible students who applied for this position, but Aniyah and Grace stood out for their poise and their commitment to representing all 2,300 students in our district."
The Student Board Members will represent their classmates at the monthly Board of Education meetings. While the Student Board Members do not vote, they provide important insights on life as a CCSD 89 student. Student Board Members discuss what motivates them, the challenges they face, and the successes they've achieved.
This is the second year that CCSD 89 will have Student Board Members. CCSD 89 is one of the first districts to have middle school students serving as Student Board Members.
Grace Bittlingmaier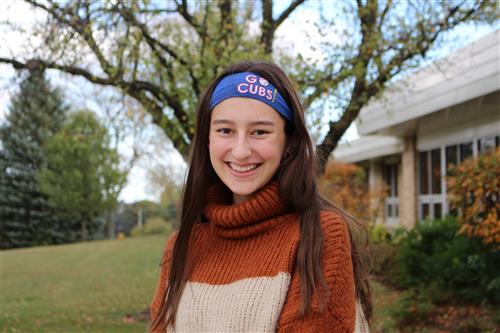 Grace Bittlingmaier, 13, is an energetic eighth-grader who has been active in sports, clubs, and music during middle school. She played on the Spartan basketball team in seventh grade. Outside of school, she plays softball and basketball.
In addition to being a bassist in the school's orchestra and chamber orchestra, she is the trombone section leader for the band. Grace also plays in the jazz band. She has also been a member of the Teen Advisory Board, Social Studies Club, and several intramural sports. In Math Club, she impressed Glen Crest math teacher Monica Shekar.
"She is a natural leader. Other students look up to her for guidance," Shekar wrote. "She would ask challenging questions and was always ready to take on the challenge with a smile."
Grace, who attended Briar Glen Elementary, says she is looking forward to hearing from other CCSD 89 students and sharing their thoughts with the Board of Education. Her goal is to one day work in the jet propulsion lab for NASA.
Aniyah Nelson
As a Student Board Member, Aniyah Nelson wants to listen to other students and fight for what they believe in.
"I hope to make every student feel a little better where they are and solve some problems," Aniyah said.
Aniyah, 13, moved to CCSD 89 prior to sixth grade. She has been part of the Glen Crest newspaper, student council, Drama Club, and the manager of the girls basketball team.
Growing up, she was part of her church choir and in middle school she joined the Glen Crest chorus. Glen Crest resource teacher Chelsea Innocenti got to know Aniyah in Drama Club and when she performed in the last two school plays.
"She is eager to learn and highly independent," Innocenti wrote. "She is intuitive; she knows when to listen and when to share her ideas. She is a role model of responsibility, positivity, and respect."
Aniyah would like to be an actress or attorney some day.
Posted: October 20, 2020