Return to Headlines
Where to get food this summer
If your family needs food during the summer, there are multiple places to get meals.
Community Consolidated School District 89 will continue to provide free lunches on Mondays and Wednesdays at Briar Glen and Glen Crest. More information is below.
Additionally, the Glen Ellyn Public Library is providing free lunches in the parking lot this summer for ages 18 and under. Pick up is 11 a.m. to noon, Monday through Friday. More information is available on this flier.
Rise & Shine Illinois can also connect families with food available in their area. You can find out more information at: www.summerfeedingillinois.org
Lunches Mondays and Wednesdays in CCSD 89
Free lunches are available to anyone who wants food throughout the summer. Families can pick up lunches from 10:30 a.m. to 1:30 p.m. on Mondays or Wednesdays at Briar Glen or Glen Crest.
On Monday, families can pick up two meals; on Wednesday, families can pick up three lunches.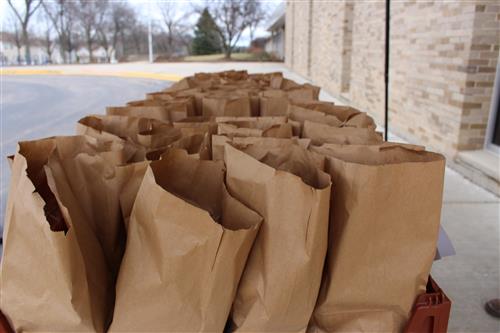 Families can drive up to either school and receive meals while still in their car. Families can pick up one meal each day for every child in their house 18 years old or younger. If your child is older than 18 and enrolled in special education, they can also receive lunch. These lunches are open to all families, not just those who receive free and reduced lunch.
Families can go to whichever school is most convenient for them. Children do not need to be present to pick up the meal. Families cannot pick up meals for friends or neighbors.
Families will receive a sack lunch, a snack, and milk or water. The meals will need to be refrigerated. All the meals meet the USDA guidelines for school lunches. Along with the lunch, the family will be handed a list of the ingredients in that lunch.
When picking up lunches
Families should not get out of their car when picking up lunch. A staff member will greet families as they pull up. Families can also walk up to get lunch.
At Briar Glen: Drivers should enter the school's parking lot from Briarcliffe Boulevard. When pulling into the lot, do not make an immediate left. Circle through the lot and pull up alongside Door 9, near the gymnasium. Cars will then circle through the parking lot to exit. A map is available here.
At Glen Crest: Drivers should use the same traffic pattern that is used for student pick up. Pull into the parking lot on the west side of the school from Sheehan Avenue, then make an immediate right. Drivers can stop in front of the school's main doors where a staff member will deliver their meal. A map is available here.
If you have food questions or concerns at any time while schools are closed, contact Lauren Parker at lparker@ccsd89.org or (630) 545-3507.
Posted: June 22, 2020