Return to Headlines
CCSD 89's inaugural FIRST LEGO League team inspired by competition
Community Consolidated School District 89's LEGO Robotics team ended its inaugural season ready to take on the next set of challenges. In December, the "Ultrabots" – a team made up of fourth-grade students - became the first CCSD 89 team to compete in the FIRST LEGO League Qualifying Tournament.
The four team members were: Arbor View students Jackson Carbonneau, Max Lerch, and Bryce Polzin, and Park View student Amir Mehta. The Ultrabots competed at Naperville North High School against more than a dozen teams made up of fourth- through eighth-grade students.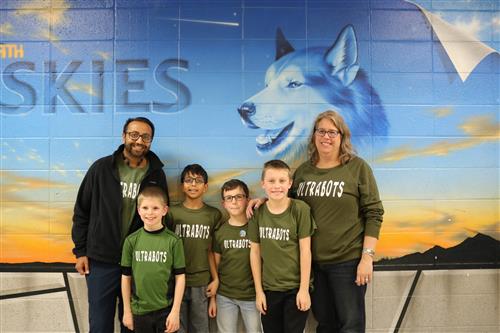 "It was a wonderful experience. None of them were intimidated," said Lauren Polzin, a CCSD 89 parent who helped coach the team. "They were very proud of themselves and they said they're up for the challenge again next year."
Each year, the FIRST LEGO League designs a challenge based on a real-world scientific topic. Students are then judged in four areas during the all-day competition.
In the robot game, the teams program autonomous robots to complete tasks in a miniature obstacle course. The students are scored on the robot's performance as well as their presentation about their design.
For the innovation project, the team presents their solution to a community issue. The Ultrabots chose to present ideas on how to reduce traffic and the pollution it causes.
Finally, in the core values section, the teams present evidence for how they live the LEGO core value of gracious professionalism within and outside of the competition.
During all parts of the competition, the students must present and perform without adult assistance.
The "Ultrabots" started last year when the district introduced LEGO Robotics as an after-school club at Arbor View Elementary School. Students from that group formed "Ultrabots", as well as teams of other CCSD 89 students who competed through Girl Scouts.
LEGO Robotics is open to students in third through sixth grades. There will also be a CCSD 89 summer league. If you'd like more information, please contact CCSD 89 Assistant Superintendent Dr. Bob Langman at blangman@ccsd89.org or (630) 469-8900 ext. 3514.
Posted: January 3, 2019