Return to Headlines
Glen Crest students take learning around the world
A class of Glen Crest students recently went on a worldwide manhunt to help them sharpen their research skills and make global connections.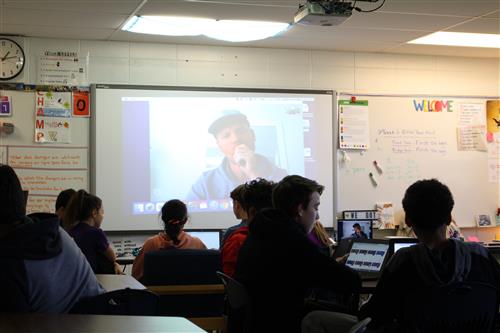 Glen Crest teacher Laura Guzman and instructional coach Melissa Cunningham set up a meeting with a "mystery Skyper", then arranged for him to talk with students through a video feed at the front of the classroom.
The students had never met the Skyper and had no idea where he was calling from.
The class and the Skyper then began a friendly competition to see who would be able to identify the other team's location first. The students and the Skyper were only allowed to ask yes-or-no questions that would help them narrow the geography.
The students were divided into groups to stay organized. Spokespeople posed the yes-or-no questions from a list that was compiled on a Google document by other students. Researchers and responders were using the Skyper's answers to study maps and gather information, while bloggers photographed and wrote about the experience.
The students took turns with the Skyper, who was also asking yes-or-no questions to try and locate the students on a map.
The students began by narrowing down the hemisphere (northern), then country (Canada), and province (Ontario) through a series of questions.
At the same time, the Skyper had used yes-or-no questions to narrow from the entire world to the entire population of the United States.
"There's only 300 million people so it shouldn't take too long," the Skyper joked.
The students soon discovered that questions had to be very specific to get useful information. For instance, when they asked the Skyper if he lived close to a body of water, he wanted to know if "close" mean five kilometers or 100 kilometers.
The students immediately picked up on his use of kilometers, and used that to further their research. After about 10 minutes, the students were able to figure out that the Mystery Skyper was Canadian teacher in a small town east of Toronto. They beat the Canadian teacher, who had figured out they were at a school in Glen Ellyn, but hadn't found the right middle school yet.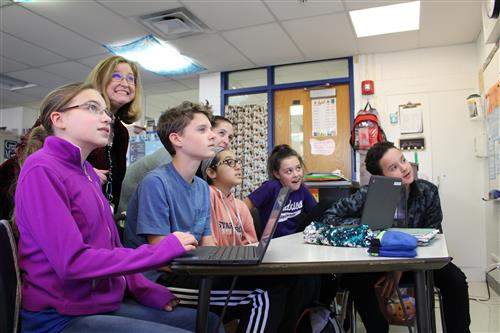 The project was part of the Global Read Aloud, where students make reading connections around the world. Guzman's students also started a kindness padlet, where students can write about random acts of kindness they shared.
The padlet page is now filled with acts of kindness from students in Illinois, New York, Texas, Canada, and more. You can see the padlet (and add your own act of kindness) here: https://padlet.com/lguzman21/7jiaqt9semi2
The Spartans have shared the padlet with students in 73 schools around the world. The students will be adding leaves to a paper tree in the hallway so they can see the kindness bloom.
Posted: November 21, 2019