Return to Headlines
Emily Burnett selected as the next principal of Arbor View Elementary School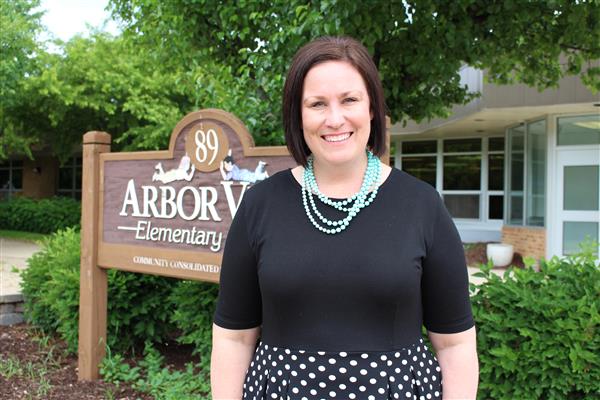 An experienced educator with ties to Community Consolidated School District 89 has been selected as the next principal of Arbor View Elementary School. Emily Burnett was approved by the CCSD 89 Board of Education at a regular meeting Monday. See a video introduction of Burnett.
"I am thrilled that the Arbor View students and families will get to work with this incredibly talented educator," said CCSD 89 Superintendent Dr. Emily K. Tammaru. "Emily Burnett believes in the potential of every student and has spent her career ensuring that each child is ready to learn every day."
Burnett is currently the Administrator of Programs and Services for the Cooperative Association for Special Education (CASE). CASE provides expertise and resources to school districts on social-emotional learning, instruction, assessment, special education, technology, and more. Burnett has coached teachers on classroom management, assistive technologies, and system evaluation.
At CASE, Burnett worked with students, parents, and staff from seven local districts, including CCSD 89. Prior to CASE, she taught in a self-contained classroom at Briar Glen Elementary School, where she also completed a principal internship program. In August 2015, she was named an Illinois Inspiring Educator of the Year.
"I love working in education because I love to see the spark children get when they learn," Burnett said. "Arbor View feels like home to me. When you walk into the building, you can tell the students and the staff are excited about learning. This is a place I really want to be."
Burnett has a Masters in School Leadership from Concordia University and a Special Education Director Endorsement from Lewis University. She earned her Bachelors Degree in Special Education from Elmhurst College.
Burnett is married with two college-age sons.
Burnett will start as Arbor View principal on July 23. Burnett is replacing Dr. David Bruno, who accepted a position as an administrator in Berwyn South School District 100.
Posted: June 17, 2019