Return to Headlines
Glen Crest teacher Tracy Dietel, Park View aide Linda Helf earn district's "89 Empowers" award
Two Community Consolidated School District 89 employees earned the "89 Empowers Award" for their generous and extraordinary under-the-radar work that are a key part of what makes the district an outstanding place to learn.
On Wednesday, Glen Crest Spanish teacher Tracey Dietel was named the "89 Empowers" recipient for certified staff. Park View aide Linda Helf was named the "89 Empowers" recipient for support staff.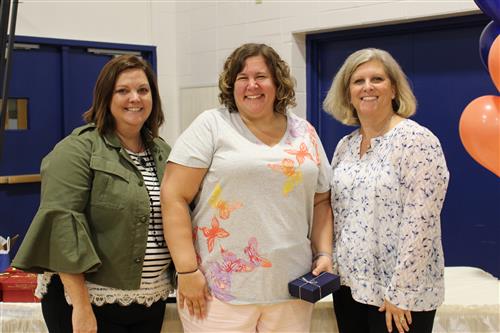 Tracy Dietel, Spanish teacher, Glen Crest
Tracy Dietel has taught at Glen Crest Middle School since 2002. She teaches Spanish and has also taught physical education.
Dietel was nominated by two co-workers, who both said she goes out of her way to support students, shares her knowledge with other staff members, and always has a positive spirit.
"Tracy is creative and innovative in her teaching," one co-worker wrote. "She is a master of technology. She's generous with her colleagues in sharing her discoveries and providing technological tutoring in a non-judgmental way. Tracy is always ready to help any student or colleague and is generous to a fault with her time and energy."
Dietel often attends her students' activities outside of school – supporting them at athletic events, cheerleading competitions, and music concerts. She started a knitting club at Glen Crest, and has brought breakfast for her homeroom students.
"Tracy Dietel has a heart that is as big as Glen Crest," wrote another co-worker. "She is always there to lend an ear, humor, advice, and a shoulder to cry on!"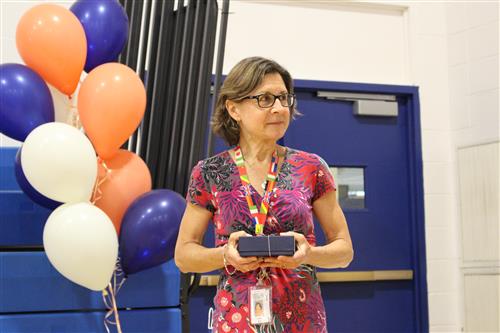 Linda Helf, EL aide, Park View
One of her co-workers called Linda Helf the "ultimate team player", which reflects how Park View Elementary feels about this dedicated aide. Four staff members separately nominated Helf for the "89 Empowers Award", citing her constant willingness to help students, and her infectiously positive attitude.
"When there is something that needs to be done, Linda jumps at the chance to lighten someone's load – but she is not interested in taking credit for her effort and kindness," one co-worker wrote. "Linda always asks, 'What can I do?' She takes genuine pleasure in being part of a team effort and gives the best hugs!"
Helf – who has been a Park View aide since 2001 - often volunteers at school events. She makes personal connections with nearly every student. Co-workers pointed out that Helf empowers all the students by greeting them each day with smiles and positive comments.
"Linda's performance and contributions to Park View go many degrees beyond her job description," one staff member wrote. "She is an extraordinary person who we are so blessed to work with each and every day."
The 89 Empowers Award was created in 2017 by CCSD 89 Superintendent Dr. Emily K. Tammaru as an end-of-the-year recognition to honor those who embody the district's mission to empower students, staff, and families to reach full potential. All district employees were eligible to be nominated.
In total, 32 staff members, one team, and two substitute teachers were nominated for the award this year, including:
Arbor View Challenge teacher Morgan Aiello: A co-worker who nominated Aiello wrote: "Morgan is the standard by which I measure my own teaching. She has taken countless hours out of her personal time to coach me in a variety of subjects and I doubt I am the only one. There is not a day I have worked with Morgan that she wasn't smiling or making someone else's day better."
Glen Crest physical education teacher Julie Breen: "To many of us, the word 'empower' means to give a voice to. This year at Glen Crest, our LGBTQ students have found a voice through the efforts of Julie in forming the PRISM Club. Their voices can be heard in a safe and caring environment."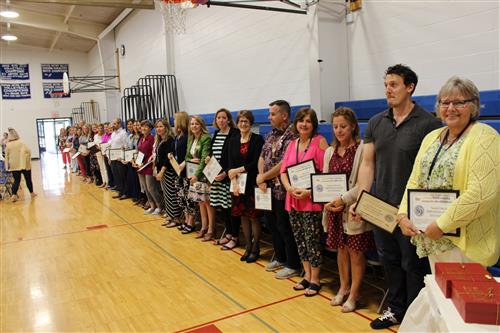 CCSD 89 technology support specialist Sally Cassidy: "In my opinion, if Sally can't fix it, it can't be fixed. Sally's attitude about everything she fixes is the same: She does not approach the problem with frustration; rather, she looks at it like a fun puzzle. She is a pleasure to work with and learn from."
Glen Crest literacy teacher Nicole Cannizzo: "Glen Crest is beyond lucky to have this gem of a teacher. Nicole cares about each student and makes every effort for each to feel special. If she thinks she can help someone, she does not wait for that person to ask for it; she seeks them out and offers to lend a hand."
Briar Glen Principal Mitch Dubinsky: "I often think of Mitch as the dad at Briar Glen. Mitch is quick to remind all staff that we are here for the students and the students seem to understand this as well. He empowers staff to reach out of their comfort zones, allows teachers independence and flexibility, and has created an environment where I want to be every day."
Glen Crest Spanish teacher Nancy Egerton: "She is never without a smile for students and staff alike. Nancy quietly reaches out to a multitude of staff members to reaffirm what they are doing, and to offer them strength to endure the challenges they face. Glen Crest and District 89 are better because of the compassion, dedication, and support that Nancy Egerton has provided."
Briar Glen first grade teacher Annie Feldman: "Annie is a phenomenal teacher. She differentiates curriculum, makes connections to the real world, and finds creative ways for students to collaborate. She also has genuineness and curiosity about her students that is unparalleled. If you name a student in Annie's class, she can easily rattle off 10 facts about the student without thinking twice."
Briar Glen second grade teacher Michelle Gower: "Michelle always goes out of her way to welcome any child, parent, staff member, or community member into her classroom at Briar Glen. She forms that special bond that lasts a lifetime. Michelle always goes above and beyond to stay connected with all of her students."
Park View interventionist Lisa Groves: "Lisa has a very caring and nurturing heart. Whether it's helping with someone's sub plans, cooking a meal for others, lending an ear, or offering a genuine hug to show she understands, she is comfortable showing her heart to support those in need."
Glen Crest Middle School literacy/French teacher Laura Guzman: "She worked all year to match kids with books and conferenced with them regularly on what they were reading. Throughout the year, we saw her students' attitudes improve and their stamina as readers increase. Her work has been phenomenal!"
CCSD 89 Communications Coordinator Matt Hanley: "Matt listens intently and puts students front and center."
Park View special education aide Jackie Hanson: "She provides support to some of our neediest students, yet is always willing to assist anyone that needs help and anticipates what the teacher or students will need at any given time. The support we receive from Jackie Hanson is irreplaceable."
Park View EL teacher Tonia Hardtke: "She is a fierce advocate for the students she teaches and their families. Tonia spends tireless hours reaching out to parents to make sure they are able to attend important meetings, and that they have interpreters to ensure they gain a full understanding of details shared by professionals."
Glen Crest building secretary Kelly Hickey: "Kelly Hickey is a executive assistant extraordinaire. She is so efficient and capable that she makes everything run more smoothly at Glen Crest."
CCSD 89 Assistant Superintendent for Finance and Operations Maureen Jones: "Her commitment and hard work often goes unnoticed and is often underappreciated. Maureen empowers each and every one of us because, by doing what she does, she insures that we can all do what we do."
Westfield social worker Kristin Kazonovitz: "Kristin empowers both staff and students to stay positive and solution focused, as well as making us all feel that our work is appreciated. Kristin knows every student by name and connects with them, working collaboratively with the students and teachers to support children of all abilities."
CCSD 89 database specialist Sue Knisely: "She will frequently take calls and respond to requests for data, charts, and graphs so that educators can make better decisions to improve teaching and learning. What people do not see is how many late nights or weekends Sue works to ensure that the data is accurate. "
Westfield intermediate modified aide Keith Lavin: "The relationship Keith has with his students is a perfect demonstration of what it means to always put student's needs first. His passion for teaching – combined with his patience and caring for students and staff alike – is enough to put a smile on anyone's face."
Briar Glen second grade teacher Gina Lydon: "Gina is a strong but peaceful presence at Briar Glen. In the hustle and bustle of the school day, Gina is steady and conscientious as she takes her time to understand her students and care for their needs – as well as the needs of the adults she works with."
Westfield EL teacher Tammi Madden: "Tammi is the epitome of a team player. She leads by example when necessary, but is always humble and kind to those who come in contact with her. She's focused on doing whatever it takes to meet the needs of students and staff at Westfield.
Westfield fourth-grade teacher Karl Mennecke: "Karl is always one to put his students and their livelihoods first. He connects to each child's passion and empowers them to reach full potential. Karl is creating an environment for students to not only learn in, but to thrive in."
Park View literacy/special education aide Bea Murphy: "Her experience shows in the way she handles herself on the playground with the many children who want her attention. They all know that she is someone that will look forward to seeing them every day. She empowers them to grow their self confidence."
CCSD 89 substitute teacher Jennifer Negrete: "To say that she goes above and beyond the role of a traditional sub is completely understating her value. One student even recently asked Jen to complete a letter of recommendation for her because she is an adult that she trusts and respects greatly."
Glen Crest physical education teacher Kelly Nordlund: "Kelly inspires students and colleagues with her positivity. She is innovative – helping to pilot fitness bands for physical education students and creating afterschool yoga intramurals. Kelly is an asset to our district."
Arbor View occupational therapist Beth Obremski: "Because of her tireless work and dedication, students are able to access their learning environment, remain calm and regulated, and ultimately find success in school! While her favorite superhero is Wonder Woman, Ms. Beth is truly the unsung hero in our school and our very own Wonder Woman!"
Glen Crest librarian Rose O'Connell: "Rose is the heart and soul of Glen Crest. Rose is the most supportive, positive, and approachable staff member here. She leads by example and radiates professionalism. I am not sure how any of us would make it through without her!"
Glen Crest special education aide Kathy Otey: "Kathy has completed community service projects with students who have significant disabilities. Kathy has a way with the students that pushes them to be more independent and teaches them to stand up for themselves."
Briar Glen RtI aide Sandy Pakula: "Sandy always goes above and beyond, but this latest gesture was stellar. In this instance, she saw a need to help a colleague - and more importantly that colleague's students - and she acted on it without hesitation."
Briar Glen social worker Kristin Payne: "She embraces change, is a constant source of support for teachers, and is overall an efficacious problem solver. Kristin empowers every individual she touches by recognizing their strengths and bringing their capabilities to their attention."
Glen Crest health teacher Courtney Russell: "Courtney is a first-year teacher, but you would never know that. From day one, she took on anything and everything she could to be a part of the Glen Crest community. About once a day, I will overhear students in the hallway or in class talk about how nice Mrs. Russell is and how excited they are to be going to health.
CCSD 89 substitute teacher Sue Schoff: "Not only does she sub, she goes above and beyond - making copies, grading for teachers so they don't have to do it when they return, bringing her own supplies, and helping with lesson plans."
Glen Crest special education aide Lynn Tyberg: "There isn't a child that has passed the many classrooms she's been in during her 20-plus years that she has not affected in a positive way."
Glen Crest computer teacher Debbie Wolski: "Debbie is generous beyond belief with her time and knowledge. She thinks nothing of spending her lunchtime with students to make sure they finish assignments and are accountable for their progress. She inspires me in countless ways."
CCSD 89 EL team members Tonia Hardtke, Mary Krajcir, Kathy Kron, Tammi Madden, Denise Urso: "They planned and organized the CCSD 89 Cultural Fair. This event is a fantastic way to empower our families and students to show their heritage and be proud of the country they came from and represent. You could tell the students were so proud. You could see it in their smiles!"
Posted: May 29, 2019