Return to Headlines
Glen Crest students Ashley Krebs, Emily Puchalski selected as district's first Student Board Members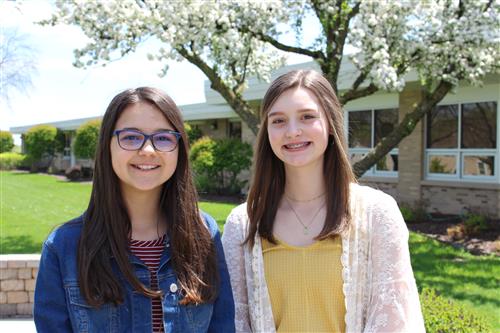 Two student leaders were selected to serve as the first-ever Student Representatives to the Board of Education in Community Consolidated School District 89. Glen Crest Middle School seventh grade students Ashley Krebs and Emily Puchalski were introduced at Monday's Board of Education meeting.
"We are thrilled to bring the views of the people we serve to our Board table," said CCSD 89 Superintendent Dr. Emily K. Tammaru. "There were so many incredible students who applied for this position. Ashley and Emily stood out for their commitment to serving students at all levels. I am very proud that these two young leaders will be the model for all future Student Board Members to follow."
The Student Board Members will represent their classmates at the monthly Board of Education meetings. While the Student Board Members will not vote, they will provide important insights on life as a student in CCSD 89. They will discuss their school experiences, including what motivates them, the challenges they face, and the successes they've achieved.
CCSD 89 is one of the first districts to have middle school students serving as Student Board Members.
Ashley Krebs
Ashley's teachers describe her as an open-minded, nonjudgmental listener who tries to be a voice for all students.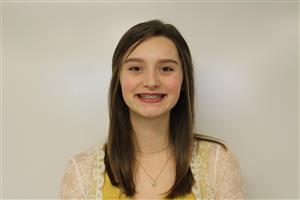 "Ashley's compassion for her peers, school, and community is unrivaled," wrote Glen Crest physical education teacher Kelly Nordlund. "Ashley is a voice for those who cannot speak and a quiet leader – always doing the right thing, even when no one is watching."
Ashley, 13, has been part of the Best Buddies program, Builders Club, Fellowship of Christian Athletes, PRISM Club, Student Union, and Teen Advisory Board. She worked on publicity for this year's school play and helped score Glen Crest track meets. She plays on the Glen Crest volleyball team and plays elite softball through the Chicago Bulls/Sox Youth Academy.
Ashley wants to give a strong start to the district's Student Board Member program.
"Since we're the first, I think we have to make change right now," Ashley said. "I'm excited to see where this program goes for students in the future.
Emily Puchalski
As a Student Board Member, Emily wants to find ways to connect with students well beyond her friends at Glen Crest.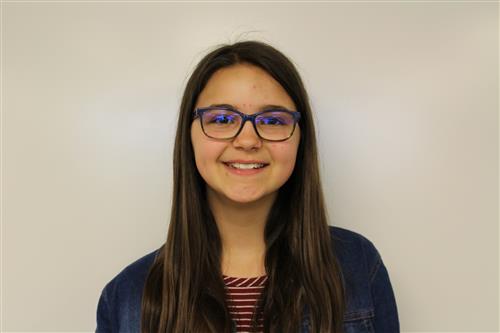 "I'm really excited to be able to work with everyone and hear their voices," Emily said.
Emily has been part of the Best Buddies program, Builders Club, the drama production, Math Club, orchestra, Social Studies Club, and Teen Advisory Board. Outside of school, she volunteers at Brookdale Senior Living and plays tennis. She has also volunteered at Park View Elementary and participated in the district's Cultural Fair. She is involved in the local Polish community and runs her own child-care business.
Teachers describe Emily, 12, as a respectful team player who isn't afraid to speak up for what she believes in.
"Emily is a leader at heart," wrote Glen Crest seventh grade science department chair Maggie Moran. "Emily is organized, honest, and an amazing team leader. She will help to make not only Glen Crest a better place to be, but our district as a whole."
Twenty four Glen Crest students who will be in eighth grade during the 2019-20 school year applied to be Student Board Members. Many of the candidates will serve in other leadership positions at Glen Crest.
Posted: May 22, 2019