Return to Headlines
Two Park View students master vocabulary challenge
Two students at Park View Elementary School earned rare perfect scores on a national vocabulary exam. Fifth-grade student Kyle Warner and third-grader Shreyansh Vatsa both got all 20 questions correct in the WordMasters Challenge.
There are hundreds of students who take WordMasters challenges across the country. This is the second test of this school year, meaning it incorporates 25 words from the first group and 25 more from the most recent. (The third and final quiz will incorporate all 75 words from the year.)
Shreyansh was one of only 14 third grade students to earn a perfect score. Kyle was one of just 68 fifth graders to get a 20 out of 20.
The WordMasters Challenge is for third- through eighth-grade students. It emphasizes logic and reading comprehension with analogy problems that are significantly harder than grade level.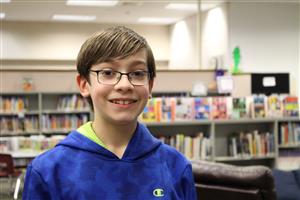 Kyle Warner, fifth grade
Kyle Warner, 10, says he enjoys the WordMasters tests because "they're challenging and I like learning the words." He practices with flashcards and advises other students to find ways to make studying the words fun, like creating a game. The favorite word Kyle has learned so far is "embark".
When he's not studying vocabulary words, Kyle likes playing baseball and golf.
Kyle also likes math and science. When he gets older, he would like to be a rocket scientist.
Shreyansh Vatsa, third grade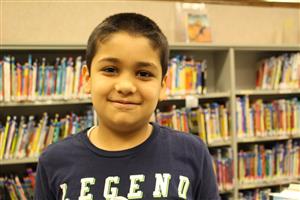 This is Shreyansh's second consecutive perfect score on the Wordmasters test. He credits his parent's encouragement for helping him be so successful. His favorite word in this round was "hedge", because it has multiple meanings. Shreyansh, 8, wants to be scientist or inventor when he grows up.
The WordMasters Challenge program is administered by a company based in Indianapolis, Ind. Further information is available at: www.wordmasterschallenge.com.
Students who participate in the WordMasters competitions are coached and supported by the CCSD 89 challenge teachers. The Park View challenge teacher is Jessica Bainter. Learn more about the challenge program at: www.ccsd89.org/challenge
Posted: March 21, 2019