Return to Headlines
Westfield's Lindsay Schaffnit named CCSD 89 "Educator of the Year"
Westfield Elementary School extended resource teacher Lindsay Schaffnit was recognized as the Community Consolidated School District 89 "Educator of the Year" at the Glen Ellyn Community Awards Banquet held Tuesday. Schaffnit was recognized for making Glen Ellyn a better place to live, learn, and work.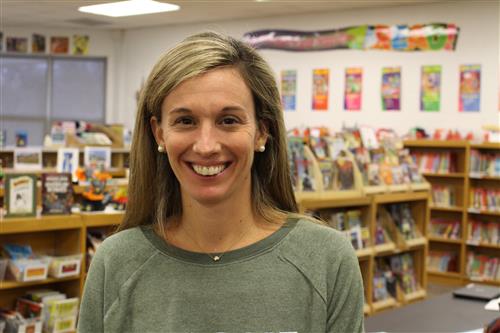 This is Schaffnit's 12th year in CCSD 89. She began her CCSD 89 career as a student teacher at Briar Glen, and taught at Arbor View before moving to Westfield. As an extended resource teacher, she interacts with students at all grade levels. She meets with small groups and goes into classrooms to help students with organizational skills, initiating tasks, following through, and much more.
"Lindsay works with everyone in the school to ensure all Westfield students are successful – not just the kids on her caseload," said CCSD 89 Superintendent Dr. Emily Tammaru. "She knows the importance of partnering with parents and she goes out of her way to make sure they are part of the team in planning for their child's success. Lindsay loves what she does. She's incredibly positive and that positive attitude is contagious. She truly is one of a kind."
Schaffnit started the Westfield "Lunch Bunch" that allowed students to have more interactions with positive role models from the community. The group also focuses on service to others, including making blankets for local homeless residents.
Schaffnit grew up and lives in Glen Ellyn. She has known since she was a child that she wanted to be a teacher.
"I love that every day is different. It's exciting to work with students, and see them grow academically and socially," she said. "I enjoy working with my colleagues to meet the unique needs of every learner. It's important to me to make connections with each of my students, build relationships with families, and find ways to make school fun and engaging."
Westfield Principal Stacey Hewick said Schaffnit is a great resource for teachers – offering ideas for interventions or changes that can help students learn. She often modifies classroom lessons to ensure every type of learner can participate, Hewick said.
"Lindsay radiates all the right reasons for selecting education as a career," Hewick said. "Every professional decision she makes has students at the core. She embodies the servant-leader mindset."
The awards ceremony took place Tuesday at the Abbington Distinctive Banquets in Glen Ellyn.
Posted: February 26, 2019