Return to Headlines
Glen Crest students qualify for second straight state math meet
Four Glen Crest Middle School students will be returning to the state math meet in March. On February 16, the team of Jack Bair, Henry Lazzaro, Samantha Lullo, and Andrew Park placed third at the regional competition, qualifying them for the "MATHCOUNTS" statewide competition. The state competition will be held March 23, at the Sheraton in Lisle.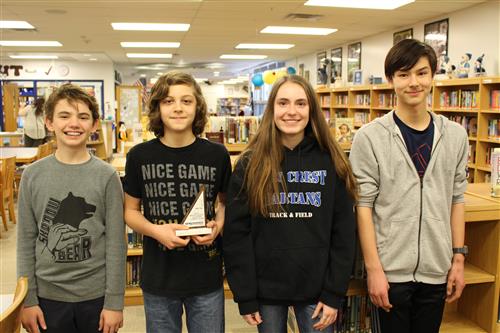 The team qualified out of a regional where more than 40 teams from 20 schools competed. In the individual competition, Park finished fourth out of 145 mathletes. Bair, Lazzaro, and Lullo each finished in the top 25.
Bair, Lazzaro, Lullo, and Park are all eighth-grade students who were on the team that finished 22nd at last year's state meet. All four attended Westfield Elementary School.
"They are amazing kids and I am so proud of them," said Glen Crest Middle School math teacher and math team coach Monica Shekar. "They have been together for so long as a team that they have a real chemistry, and that helps them to be successful when they work together in the competition. Of course, they're also very smart and love math."
The team was supported by Glen Crest mathletes Khatija Ahmed, Robin Jefferson, Reganne Nash, and Ella Pope, who also competed in the regional meet.
MATHCOUNTS is a national program where students compete in live, in-person contests against other sixth-, seventh-, and eighth-grade students.
The competition has four rounds: sprint, target, team, and countdown round. It takes students about three hours to complete:
The sprint round, focused on speed and accuracy. Students have 40 minutes to complete 30 problems without a calculator.
Target round, focused on problem solving and mathematical reasoning. Students have six minutes to complete four pairs of problems.
Team round, focused on problem solving and collaboration. Students have 20 minutes to complete 10 problems.
Countdown round, focused on speed and accuracy. Students have a maximum of 45 seconds per problem, without a calculator.
To learn more about MATHCOUNTS, go to: https://www.mathcounts.org/programs/competition-series
Posted: February 21, 2019