Return to Headlines
Families can now enroll in Head Start preschool program
Families can now enroll in the Head Start preschool program. Community Consolidated School District 89 partners with Head Start to offer preschool that is designed to close the learning gaps for students from low-income families.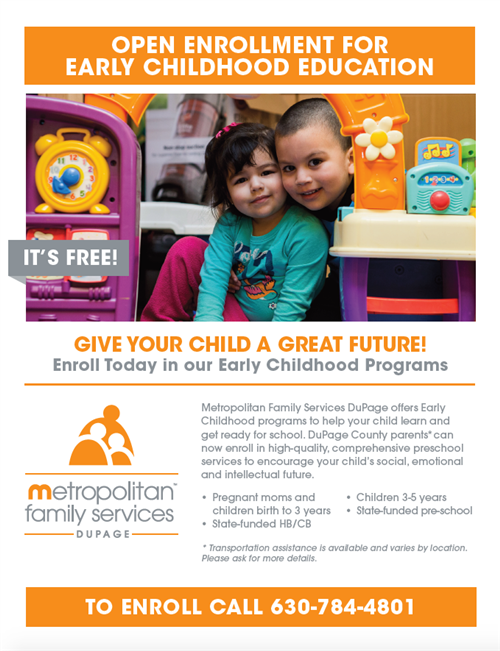 The Head Start preschool classroom is open to 3- to 5-year-old students who qualify. In general, students in the free program are children who have an identified educational need, but cannot pay for the district's typically developing preschool program.
To enroll or find out more about Head Start, call (630) 784-4801.
The Head Start classroom is a full-day program, with students in class for 6 hours, 15 minutes Monday through Friday. Metropolitan Family Services staffs each classroom with one lead certified early childhood teacher, one teacher with an associate degree in early childhood education, and one teaching assistant. Head Start provides transportation.
The program uses the Creative Curriculum and Gold Assessments, researched-based instruction for preschool programs. ​The program provides wraparound services for the entire family, complete with home visits, parent-education programs, and health services.
Students who are homeless and or living in transitional housing would qualify. Students younger than four who currently receive Head Start services may also qualify. Additional students will be identified through outreach and screenings.
The preschool class is open to residents of CCSD 89, unless the district can't fill all the spots. In that case, students from neighboring districts would be invited to apply.
About the CCSD 89 Head Start program
2019-20 will be the second year that CCSD 89 has hosted a Head Start preschool classroom. CCSD 89 runs the Head Start program at a minimal cost to the district. The program is funded by the federal government through grants awarded to community agencies. For CCSD 89, the program is run through Metropolitan Family Services DuPage.
The latest state report cards indicate 17 percent of CCSD 89 students come from low-income homes, meaning they are eligible to receive reduced-price lunches, live in substitute care, or receive public aid.
Learn more
More information about Head Start is available at: https://eclkc.ohs.acf.hhs.gov/programs/article/head-start-programs
More information about Metropolitan Family Services DuPage: https://www.metrofamily.org/community_center/dupage/
Posted: February 6, 2019