Return to Headlines
Kristie Mate hired as next Park View Elementary School principal
An experienced administrator who has worked in education for nearly two decades will be the next leader of Park View Elementary School. On Monday evening, the Community Consolidated School District 89 Board of Education unanimously approved Kristie Mate to be Park View principal, starting in the 2019-20 school year. To see a video introduction from Mate, go to: https://youtu.be/nw80UKTewEU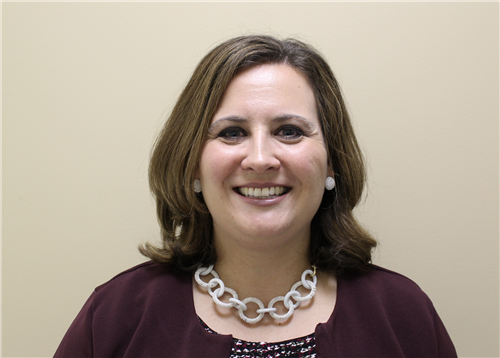 "I am so excited for Kristie to join our team. While meeting with Kristie several times over the past month, her passion for education and helping all students succeed was evident," said CCSD 89 Superintendent Dr. Emily Tammaru. "Kristie is focused on students. I know she believes in supporting teachers and parents to ensure a well-rounded, positive learning environment where every child can succeed."
Mate will replace Barb Peterson, who is retiring at the end of the 2018-19 school year, after 20 years in education. Peterson has been the principal at Park View for seven years.
Mate is currently the Assistant Principal for Curriculum and Instruction at Drauden Point Middle School in Plainfield. Since starting that position in 2012, Mate has focused on developing strong curriculum and instructional practices; organizing and implementing special education programming; and ensuring that all disciplinary processes are also learning experiences for students.
In 2017, Mate was named the Assistant Principal of the Year in the 3 Rivers Region by the Illinois Principals Association.
Mate loves the energy that comes from being in a school full of young learners. She's thrilled to work with Park View staff to help each student reach his or her full potential.
"Everyone talks about the parent involvement and close-knit community at Park View. That's very exciting," Mate said. "I'm looking forward to meeting the community and continuing that positive direction."
Mate believes her middle school background will help Park View students prepare for the full scope of their educational experience in CCSD 89.
"I know where students need to be when they leave elementary school," she said.
Mate has a Master's Degree in Educational Leadership from the University of St. Francis and a Master's Degree in Special Education from Lewis University. She has teaching certifications as a Learning Behavior Specialist and in Administration. She earned her Bachelor's Degree in Family and Consumer Science from Bradley University.
It was during her time at Bradley that she began mentoring students and realized she wanted to work in education. She started her first teaching job one year later.
Mate is married with two children, a seven-year-old and a nine-year-old. Outside of work, she enjoys spending time with her family, reading, and cooking.
Posted: January 15, 2019