Return to Headlines
CCSD 89 students earn top scores in math, vocab competitions
Five CCSD 89 students earned national recognition for their performance on recent vocabulary and math competitions.
Westfield students Ava Blalock, Kavya Uppal, and Ella Pope all earned perfect 20-out-of-20 scores on the Wordmasters vocabulary challenges. Park View fourth grader Breanne Crawford also got all 20 questions correct in the competition. This year, 6,780 fourth- and fifth-grade students participated and only 176 – less than three percent - got a perfect score on the WordMasters challenge.
Pope was also a regional winner in the Continental Mathematics League (CML) computer science competition. Arbor View fourth grader Abby Van Dusen was a regional student winner in the CML computer science competition. Park View second grader Shreyansh Vatsa was awarded a medallion for earning perfect scores on all three CML competitions this year.
Continental Math League
The Continental Math League (CML) contests ask second-grade-through-high-school students to solve multi-step analytical problems. The computer science test has students solve programming problems and algorithmic puzzles on paper.
The CML contests are run by company in New York that has been challenging public and private schools since 1980. More information is available at: https://www.cmleague.com/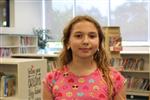 Abby Van Dusen, fourth grade, Arbor View Elementary
Abby recommends that any kids who want to do well on the CML computer science quizzes practice, do their best, and be confident. That helped Abby earn a math medallion as the fourth-grade regional student winner. She has big plans for her future.
"I want to be good at math, I want to do improv, and I want to be a singer/dancer," she said.
Shreyansh Vatsa, second grade, Park View Elementary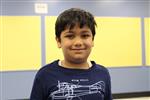 Shreyansh wants to be scientist and inventor when he grows up. He loves geometry and multiplication, so he enjoyed practicing for the CML contests. When faced with a tough problem, he would think about it, write down his answer, and then circle back to check his work at the end.
"I just want to learn so I can get smarter," he said.
When his parents found out that he had earned the math medallion, they took him out for a congratulatory pizza night, Shreyansh said.
WordMasters
The WordMasters Challenge is for third- through eighth-grade students. It emphasizes logic and reading comprehension with analogy problems. Three times a year, the students receive a set of words that are significantly harder than grade level. They take a 20-question quiz that asks them to find relationships between words.
A WordMasters Challenge question might look like:
proud: swagger :: ashamed : _______ (a) boast (b) resume (c) shrink (d) quiver (e) swell.
The student would then have to determine that a proud person has a swagger, as an ashamed person has a quiver.
Ava Blalock, fourth grade, Westfield Elementary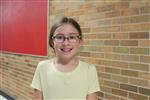 Ava liked learning the word "prune" through WordMasters because it was interesting to think about a word with multiple meanings. When she grows up, the 10-year-old would like to be a chef and an author. She thinks her WordMasters practice will help.
"If you are an author, you use harder words because it looks more professional," Ava said.
Breanne Crawford, fourth grade, Park View Elementary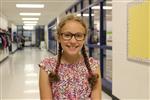 Breanne loves reading fantasy and science fiction. She hopes to work for NASA someday. The favorite word she learned in the WordMasters challenges was "intricate" because "it means complex and difficult, which also describes the (WordMaster) challenges."
"I like challenges because I want to do something big when I grow up," she said.
Ella Pope, fifth grade, Westfield Elementary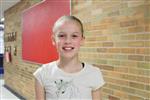 Pope would like to work in stocks or finance as an adult. She loves the WordMasters work because "you can figure out what people are saying." The favorite word she learned in practicing was "corpulent" because she got to draw a sumo wrestler to illustrate the word. Pope earned a perfect score on the third WordMasters test, which can be the most difficult because it draws from all 75 words the students learned during the year. She also earned a medallion for being the regional student winner in the CML computer science competition.
Kavya Uppal, fourth grade, Westfield Elementary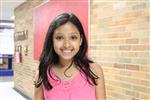 Kavya used flashcards to practice for the Wordmasters challenges. When she finished, she thought she'd maybe gotten 18 out of 20 correct. She was happy and surprised to learn she'd earned a perfect score. She says the WordMasters practice "helps you with analogies and comparisons." Her favorite word she learned was "charades".
The WordMasters Challenge program is administered by a company based in Indianapolis, Ind., which is dedicated to inspiring high achievement in schools. Further information is available at: www.wordmasterschallenge.com.
Students who participate in the WordMasters and Continental Math League competitions are coached and supported by the CCSD 89 challenge teachers. Learn more about the challenge program at: www.ccsd89.org/challenge