Return to Headlines
Briar Glen teacher Chris Gillis selected as Golden Apple finalist
Briar Glen Elementary preschool teacher Chris Gillis is one of just 32 finalists for the Golden Apple Award for Excellence in Teaching, which honors the best educators in Illinois. There were 708 preschool-through-third-grade teachers nominated this year – a record number – and less than 5 percent were selected to be finalists.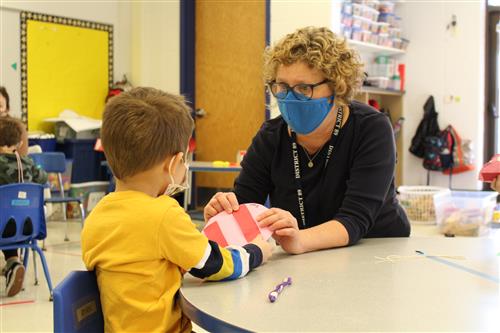 "Chris embodies what it means to be a teacher," said CCSD 89 Superintendent Dr. Emily K. Tammaru. "She gives of herself to ensure all of our littlest learners will learn, grow, and love coming to school. She's an amazing person."
This is the second honor this month for Gillis; she was separately selected as the CCSD 89 Educator of the Year through the Community Awards organized by the Glen Ellyn Chamber of Commerce.
Gillis has been a preschool teacher for 32 years, including the last 15 at CCSD 89. She previously taught at Arbor View Elementary and joined Briar Glen when the district's preschool program moved to that building.
"To be recognized as a finalist is humbling," Gillis said. "For a parent to take the time to nominate me is just amazing."
She is known for making deep connections with her students and their families. Briar Glen Principal Mitch Dubinsky said throughout a challenging time in education, Gillis' upbeat attitude has kept learning fun for all her students.
Gillis and her husband live in Naperville and have two adult children. Outside of work, Gillis has been the vice president of the "Thumbuddy Special" non-profit for 35 years. Thumbuddy Special provides support to families of children with special needs. In February, the organization donated an accessible van to a family of a child with spina bifida.
About the Golden Apple Awards
The Golden Apple Awards for Excellence in Teaching was the idea of founder Martin Koldyke, who felt excellent teachers needed to be recognized for their contributions to building a stronger, better-educated society. Every year, 10 teachers are named Golden Apple Award winners.
The Golden Apple Award winners become lifetime members of the Golden Apple Academy of Educators, mentor Golden Apple Scholars, and contribute to major education reform efforts.
Golden Apple's selection committee is comprised of college and university professors, educational consultants, administrators, and former recipients. The committee uses industry and research-based professional standards to identify exemplary educators. The finalists will have a final round of review and classroom observations prior to the award announcement in the spring.
You can learn more about the Golden Apple Awards at: https://www.goldenapple.org/awards