Return to Headlines
Lerch, Koger, Pope elected to CCSD 89 Board of Education leadership
Three Community Consolidated School District 89 Board of Education members were elected to leadership positions at an organizational meeting on Monday, May 1. During the same meeting, Jessica McGee was sworn in as a new Board member.
At the meeting, Jay Lerch was elected President of the Board of Education. Yannick Koger was elected as the Board Vice President. Scott Pope was re-elected as Board Secretary Pro Tem.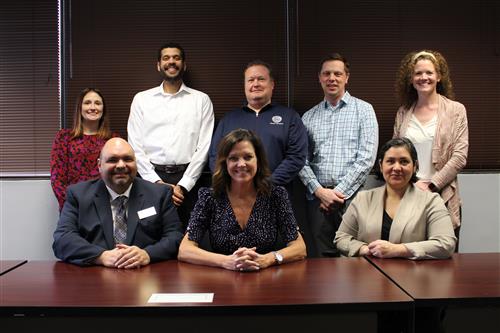 Lerch had previously been Vice President of the Board. The previous Board President, Haydee Núñez, nominated Lerch to be Board President. Núñez remains a member of the Board of Education.
At the same meeting, Koger, McGee, and Pope were sworn in for four-year terms. In April, McGee was elected to fill the seat of Ben Yates, who did not run for re-election. Koger and Pope were re-elected in April.
"I'm so appreciative of all the residents who used their time and energy to run for the Board of Education. Our students benefit when residents stay engaged with local education," said CCSD 89 Superintendent Dr. Emily Tammaru. "I would like to congratulate the new board leadership and welcome our new board member. I look forward to working with them to create more opportunities for students."
At the start of the meeting, the district honored Yates for his more than five years of service on the Board of Education: https://youtu.be/3xPnWasgGzI
About the board members
Lerch has lived in the district for more than a decade. He and his wife have a son at Glen Crest Middle School. Lerch is currently the payroll manager at UCP Seguin of Greater Chicago. Learn more: www.ccsd89.org/domain/65
Koger and his wife have three girls who attend Arbor View. Koger has participated in the Arbor View PTC and the district's strategic plan committees. He is now a marketing analytics consultant for Meta Platforms Inc. Learn more: www.ccsd89.org/domain/65
Pope has been active in a variety of PTC-sponsored events and as a parent volunteer at Westfield School. He works at Argonne National Laboratory. He and his wife have three children, including two who are students at Glen Crest. Learn more: www.ccsd89.org/domain/65
McGee has worked as a school psychologist at the elementary and secondary levels since 2007. She is currently a school psychologist in West Aurora School District 129, where she supports students' social-emotional learning and academic progress. Learn more about McGee: https://bit.ly/3n2LJav
Posted: May 3, 2023