Return to Headlines
District's finance department earns honors for financial excellence
Community Consolidated School District 89 was notified that the district's bond rating improved to AA+. Only the most conservative and financially secure districts receive this rating from Standard & Poor's, which is a testament to the finance department's work and the Board of Education's commitment to fiscal responsibility.
The AA+ rating is expected to save taxpayers about $225,000 in interest payments on the bonds that were recently approved for repairs and updates to educational environments and safety systems.
Shortly after the district was notified of the bond rating, the district also received news that the Association of School Business Officials (ASBO) honored CCSD 89 with its Certificate of Excellence in Financial Reporting for the 22nd consecutive year. The award is earned by school districts that have met or exceeded the ASBO's high standards for financial reporting and accountability.
Recognition through the ASBO program demonstrates a commitment to fiscal integrity, shows the district's dedication to transparency, and can help achieve a better bond rating.
"Our staff and our Board of Education are always focused on ways to provide a great education to this community's children while being responsible stewards of public resources," said CCSD 89 Superintendent Dr. Emily K. Tammaru. "This recognition is a public demonstration of the excellent work done by the district's business department every day."
ASBO International, founded in 1910, is a professional organization with approximately 5,000 members. ASBO provides programs and services to promote the highest standards of business practices, professional growth, and effective use of educational resources.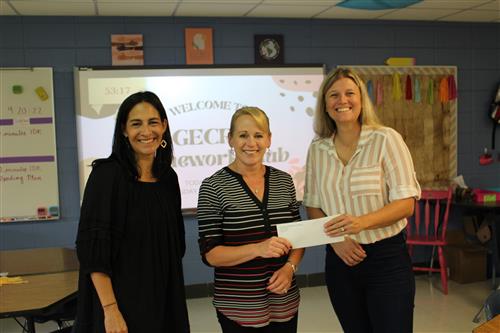 Jones, who has been the Assistant Superintendent for Finance and Operations at CCSD 89 since 2010, recently concluded a three-year term on the Board of Directors for the Illinois Association of School Business Officials.
In recognition of her service on their Board, IASBO made a $1,000 donation in Jones' name to the Glen Ellyn Children's Resource Center, which provides afterschool tutoring and mentoring to Glen Crest Middle School students. IASBO treasurer Dr. David Bein said Jones as an amazing leader.
"IASBO, your district, and all of the school districts around the state of Illinois are better because of what you have done," Bein said.
The Glen Ellyn Children's Resource Center (GECRC) is an afterschool mentoring program at Glen Crest Middle School for students who need additional academic support. Two CCSD 89 employees design the daily activities for the afterschool program while community volunteers help students with classwork.
GECRC is looking for donors and volunteers to be a part of the program in CCSD 89. To learn how you can help, go to www.gecrc.com.
To see a video of the CCSD 89 GECRC program, go to: https://bit.ly/89GECRC
Posted: November 17, 2022