Return to Headlines
Glen Crest students Kate Costello, Fatimah Shahid selected as 2022-23 Student Board Members
Two outstanding student leaders were selected as the next Student Representatives to the Community Consolidated School District 89 Board of Education. Glen Crest Middle School eighth-grade students Kate Costello and Fatimah Shahid will begin their one-year term at the August board meeting.
"Fatimah and Kate are amazing young women and I'm very excited to work with them next school year," said CCSD 89 Superintendent Dr. Emily Tammaru. "They are both so incredibly compassionate and truly want to be a voice for others. They will bring a great perspective to the Board."
The Student Board Members will represent their classmates at the monthly Board meetings. Student Board Members do not vote, but they report on the challenges and celebrations of CCSD 89 students.
This is the fourth year CCSD 89 will have Student Board Members. CCSD 89 is one of the few Illinois districts to have middle school students serving as Student Board Members.
Kate Costello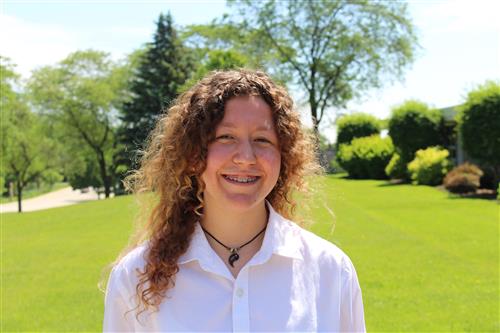 Kate Costello, 13, sees the Student Board Member position not as a personal honor but as an opportunity to help others. She believes every person deserves to be heard.
"I like empowering people," Kate said. "Helping to give other people a voice makes me really happy."
Kate attended Briar Glen Elementary School. At Glen Crest, she has been a part of band, chorus, and drama. In sixth and seventh grades, Kate earned state-level honors in the French Horn from the Illinois Grade School Music Association. She has been a member of Builders Club, PRISM Club, intramurals, and the school musical at Glen Crest.
Outside of school, Kate participates in Girls Scouts and Scouts BSA, as well as learning jiu-jitsu.
"Every time I think of Kate, I think of her as a natural leader," Glen Crest math teacher Monica Shekar wrote. "Kate's ability to bring people together is very exciting to watch. She is calm, collected, mature, and has a natural talent for problem-solving and reaching a consensus."
When she gets older, Kate would like to work as a lawyer, either in family law or as a Judge Advocate General Corps attorney in the military.
Fatimah Shahid
Fatimah Shahid hopes that being a Student Board Member will give her an opportunity to advocate for all students in CCSD 89.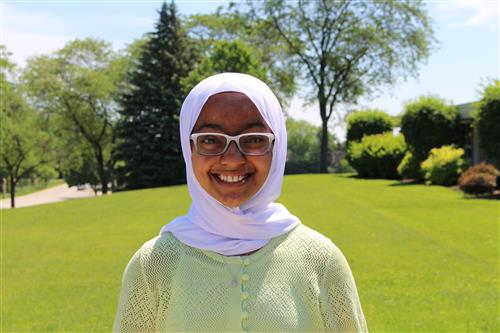 "What I really want is to help all students feel comfortable in their school and have a voice in their community," the 12-year-old said.
Fatimah has been involved in a number of activities at Glen Crest, including: Builders Club, Coding Club, crew for the school musical, Drama Club, Friends Helping Friends, intramurals, Library Teen Advisory Board, Math Club, and the dress code committee. In elementary school, she was part of Art Club, Best Buddies, Culture Club, Eco Club, Girls on the Run, Jump Rope for Heart, safety patrol, the science fair, and student council.
Fatimah is a student of service: she has been fundraising for nonprofits since third grade; she is a Girl Scout; she volunteers once a month; and she attends Islamic school every Sunday. She was the only student volunteer at the CCSD 89 vaccination clinics. She also participates in martial arts.
Fatimah moved to CCSD 89 before fourth grade and attended Westfield Elementary School, where her fourth-grade teacher Heba Khourshid helped Fatimah to find her voice.
"Fatimah is the advocate students should model after and the voice you need to hear," Khourshid wrote. "Her unwavering support and commitment to help others would make her an excellent Student Board Member."
As an adult, Fatimah would like to be an elementary school or English-language teacher.
Posted: June 11, 2022