Return to Headlines
June 24 fundraiser event will support Glen Crest tutoring program
The community is invited to the Glen Ellyn Children's Resource Center's "Dare to Dream" 20th-anniversary celebration and fundraiser, on Friday, June 24 at the historic Glen Ellyn Boathouse. This event will celebrate the donors, volunteers, staff, and students who built GECRC over the past 20 years as well as lay the groundwork for its future. The community's support will help launch GECRC into the next decades as the premier educational advocate for students in need in Community Consolidated School District 89 and Glen Ellyn District 41.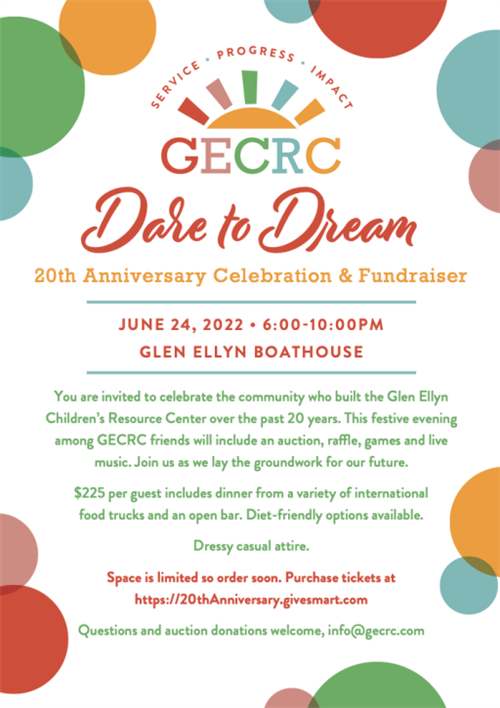 "GECRC has been a trusted and valued community organization in the Glen Ellyn community for 20 years," says GECRC Executive Director Leah Harding. "As we look to the future, we see that many more students could benefit from the support provided by GECRC afterschool and summer programs. With dedication and care of our supporters and volunteers, we can do it."
Tickets for "Dare to Dream" are $225 and can be purchased online now at https://e.givesmart.com/events/pQd/ or www.gecrc.com. All proceeds will benefit GECRC.
The event runs from 6 to 10 p.m. It will feature live and silent auctions, live music, dinner from international food trucks and an open bar. Attire is dressy casual. Those interested in being an event sponsor, donating items for silent and live auctions, or volunteering at the event are encouraged to reach out via email to info@gecrc.com.
For more information about "Dare to Dream," contact GECRC Development Manager Laura Ulepic, lulepic@gecrc.com.
The GECRC programming at Glen Crest serves students from low-income homes who haven't yet shown the same academic growth as their peers. By establishing connections with volunteer tutors from the community, the afterschool program can help students with both academic and social skills.
To donate to GECRC, go to: https://www.gecrc.com/donate-today/ Choose "D89 Expansion" from the drop-down menu. You can also donate by mailing a check to GECRC, 346 Taft Avenue, Suite 205, Glen Ellyn, IL 60137.
GECRC is an established 501(c)3 organization, so donations are tax-deductible. A $1,000 donation would support a student for an entire school year and the summer. A $100 donation would sponsor a student for one month, and a $50 donation provides more than 20 hours of afterschool programming.
In addition to monetary donations, the program also needs volunteers to tutor and mentor students. To complete a volunteer application, go to: www.gecrc.com/volunteer
Posted: May 3, 2022