Return to Headlines
Reduced isolation and quarantine times will begin on January 11 in CCSD 89
Late last week, the CDC and the DuPage County Health Department released guidelines that reduce the quarantine and isolation time for students from 10 calendar days to five days. The Illinois Department of Public Health has not issued formalized guidance at this time. However, they indicated they will adopt the CDC standards for students and school staff.
Community Consolidated School District 89 will adopt these guidelines starting Tuesday, January 11. You can use this chart (updated January 9) to help you determine what steps to take when your student tests positive for COVID-19, is a close contact, or is experiencing symptoms.
Note: This chart supersedes all previous charts. Previous charts have been removed from the website to avoid contradictory guidance.
Parents should make decisions about next steps in collaboration with the school nurse. It is through this collaboration that their children will be able to receive support from the remote teacher.
The district will use Monday, January 10, to implement the new distancing guidelines that are required when students are eating, and to contact the families of students who will have reduced isolation or quarantine times. School nurses will share the updated return date and any requirements for students who may be able to return before day 10.
Return to school from isolation, quarantine
Students on a 10-day isolation or quarantine who were previously given a return-to-school date of Monday, January 10, or Tuesday, January 11, can return to school on those days, as long as the student's symptoms are improving and they have been fever-free for 24 hours without medication.
Starting Tuesday, January 11, any student who tests positive or is a close contact will follow the new CDC guidelines for schools.
If you have questions, you can contact your personal doctor or your school nurse. Please be patient as nurses are fielding questions and requests from multiple families and staff members.
New isolation and quarantine times
A student should stay home for five days after they test positive or after their first full day of symptoms. They can return to school after five days as long as their COVID-19 symptoms are improving and they have been fever-free for 24 hours without medication. (The day of the positive test or first symptoms is "day zero".)
Students who are a close contact of someone who was positive for COVID-19 and have supplied the district with proof of being vaccinated within the last six months can remain in school, but will need to test five days after exposure. Students who are not vaccinated or who completed their vaccine series more than six months ago and are not boosted can return to school five days after last exposure (day of exposure is 'day 0') with a negative test and clearance from the school nurse. Rapid-antigen tests are acceptable, but home tests are not accepted.
Here is an example of when a recently vaccinated or boosted student could return to school: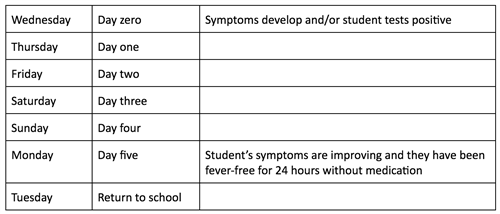 Students who have not received the COVID-19 vaccination would follow the same schedule but would need a negative test to return.
Cleaning and mitigation practices remain in place
Families can submit vaccination records
If your child has completed their COVID-19 vaccination, families are encouraged to submit a copy of the student's vaccination card to the school. Students who do not show proof of vaccination will follow the isolation and quarantine rules for unvaccinated students. You can drop off or email a copy of the front of the card to the nurse at your student's school, or you can submit their record here: https://forms.gle/tUubb7pFNVTxX7BM9
Daily notices changing to weekly updates
CCSD 89 schools will no longer be sending notifications during the week when there was a person who was positive for COVID-19 in a school building. Instead, the information will be shared in a weekly summary email.
The weekly summaries will keep families informed about conditions in their school while reducing the number of emails sent during the week.
Posted: January 9, 2022