Return to Headlines
Measure of Academic Progress (MAP) testing will not begin in September
UPDATE: After speaking with multiple districts that began MAP Growth testing this week, CCSD 89 has decided

not

to begin these assessments next week as previously scheduled. Several districts that tried to administer the test to remote learners this week faced overwhelming technical issues that made it impossible to provide a reliable testing environment. CCSD 89 will delay MAP Growth assessments and work to find a different solution. The district will send an update when more information is available.
---
Starting September 15, students in second through eighth grades will be taking the Measure of Academic Progress (MAP) Growth test. This test does not affect a student's grade. It is a benchmark that measures each student's reading and math ability, so that teachers can plan lessons that meet the needs of each learner.
Students take this test each year but, of course, this year it will be administered much differently. Students will take the test remotely from their home while being supervised by their teacher. We do ask families to assist us with a few items prior to testing.
Prior to test day
On test day
Minimize distractions for your child

Provide a quiet testing environment

Encourage your child to use headphones or earbuds
At testing time, teachers will instruct your student to:
Log into their CCSD 89 account

Log into their Google Classroom

Click on the Zoom link for their class, keep their video camera on, microphone off, and the Zoom Chat box open to communicate with the teacher during the test in case technical issues occur

Allow the teacher/proctor to open the session first

Log in at test.mapnwea.org

Follow any additional instructions from the teacher/proctor
There's nothing students need to prepare for these exams. We hope that students will do their best, without putting undue stress on themselves. We request that parents not assist their child with the content of the test, only with technical issues.
---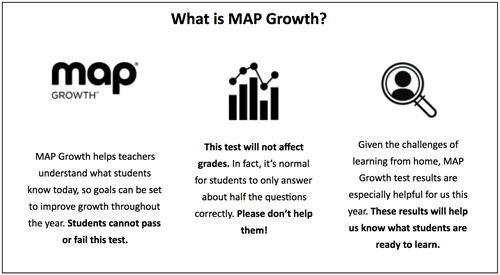 How MAP Growth works
MAP Growth is a computer-adaptive test. If your child answers a question correctly, the next question is more challenging. If they answer incorrectly, the next one is easier. This type of assessment challenges top performers without overwhelming students whose skills are below grade level.
What MAP Growth measures
MAP Growth uses a RIT scale to accurately measure what students know, regardless of their grade level. It also measures growth over time, allowing you to track your child's progress throughout the school year and across multiple years. Once your child completes a MAP Growth test, they receive a RIT score.
More information about MAP Growth Test is available for parents here:
---
If your child has any technical issues, they should send a CHAT to their teacher in ZOOM. Their teacher will be able to help them.
Below are the most common issues that might arise: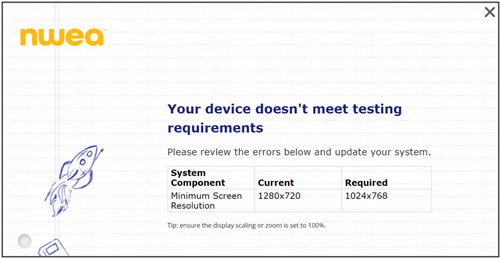 *If this appears on your child's screen, your child will press Ctrl + Shift + 0 (zero), then close and relaunch the testing app.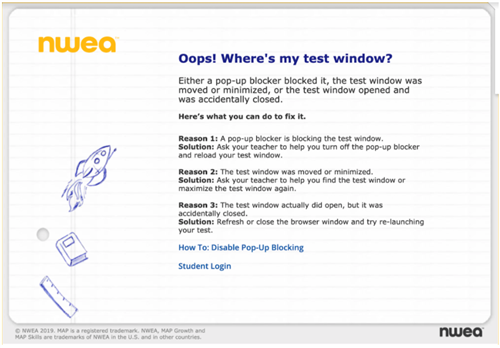 *If this appears on your child's screen, your child will use the CHAT in ZOOM to let their teacher know. They will then close out of the window, go back to Google Classroom, and click on the link to the MAP testing site again. The teacher will restart their testing session and your child will log back into the test session.
Posted: September 10, 2020