Return to Headlines
Glen Crest graduate will speak March 6 about using dialogue to overcome intolerance
Glen Crest teacher Craig Hofmann remembers Qasim Rashid as a quiet, smart, and unassuming student. Rashid, a 1996 graduate, will return to the middle school on March 6 as a prominent, outspoken advocate for tolerance and education.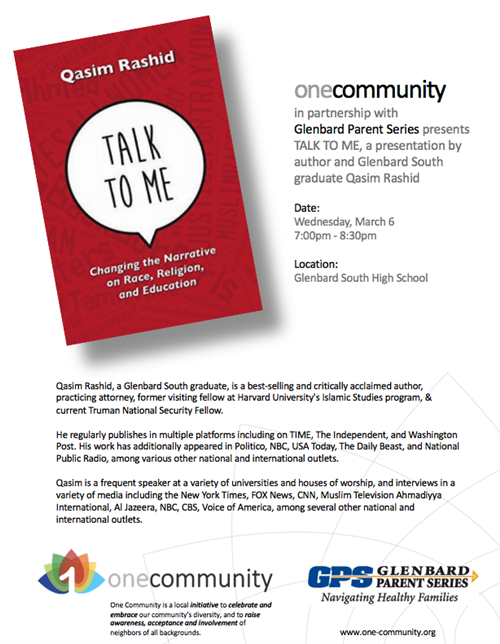 Rashid is a best-selling author, attorney, former visiting fellow at Harvard University's Islamic Studies program, and a current Truman National Security Fellow. The community is invited to hear him speak at 7 p.m. Wednesday, March 6, at Glenbard South High School.
Rashid will speak about the practical steps each of us can take to create a better environment for our children during a time when violence against marginalized communities is increasing. Rashid believes these dire circumstances can be overcome with dialogue, education, and engaged local leaders.
Rashid's talk was arranged through the Glenbard Parent Series. To learn more, go here: http://www.glenbardgps.org/event/talk-to-me-using-the-power-of-dialogue-to-overcome-racism-intolerance-and-violence/
Prior to the evening presentation, Rashid will be meeting with Glen Crest students to talk about tolerance, understanding, and the commonalities between the world's faiths.
Rashid is a 2000 graduate of Glenbard South High School. He is the former chairman of the Muslim Writers Guild of America. He served as a volunteer chaplain for the Virginia State Prison system, and worked pro bono for victims of domestic violence through the Virginia Poverty Law Center. His first book, "The Wrong Kind of Muslim", Rashid was a call to unite people of all faiths against extremism.
Rashid's diverse interests and personality might be best captured in his Twitter biography where he describes himself as: host of the Re-Sight Islam podcast, an American Muslim, a women's rights defender, as well as an "awesome-hat aficionado".
Hofmann ran into Rashid three years ago, when Rashid was presenting at a DuPage County social studies conference. After the presentation, Hofmann went up to re-introduce himself. Rashid – who had just finished a very intense talk about discrimination - immediately asked for a hug.
"He is very scholarly and serious, but cares deeply about human relationships," Hofmann said. "I could sense a genuine compassion in him for bringing together people of all backgrounds."
Hofmann said Rashid will speak to the entire sixth-grade class, as well as meeting with several smaller groups during the day.
"That's the idea of bringing Qasim in. Here's somebody who went through Glen Crest and Glenbard South and really is changing the world in significant ways," Hofmann said. "Hopefully, it will be another way to inspire the students to go out and change the world for the better in whatever way they feel passionate about."
Posted: February 22, 2019