Return to Headlines
Families can now request 2020-21 preschool registration information
Families interested in having their child attend Community Consolidated School District 89 preschool in the 2020-21 school year can now request pre-enrollment information. To begin the pre-enrollment process, call Briar Glen Elementary secretary Michele Messa at (630) 545-3300.
At this time, families can only request pre-enrollment forms. Registration is not yet open.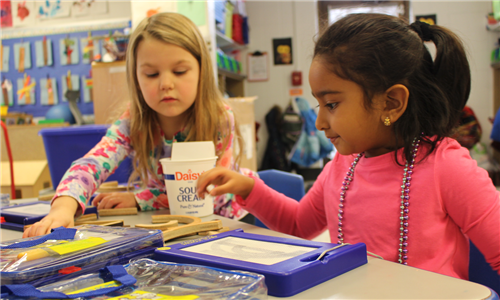 Pre-enrollment information will be mailed to anyone who calls. The registration packet must be turned in between 8 a.m. and 2 p.m. on Friday, January 31, at Briar Glen Elementary School, 1800 Briarcliffe Boulevard, Wheaton. Families should bring the completed pre-enrollment packet, proof of residency, and a $142 fee to Briar Glen on January 31.
For the 2020-21 school year, there will be limited openings for 3- and 4-year-old children. Once the district receives the pre-enrollment information, required paperwork, and the $142 fee on January 31, the student will be placed in line for open spots. Spots are filled in a first-come, first-serve basis on January 31. Families that are selected will be notified by mail how to complete the registration process for the 2020-21 school year. Families not selected will be placed on a wait list.
The CCSD 89 preschool program is located at Briar Glen Elementary. CCSD 89 preschool classes take place Monday through Friday, 8:30 to 11:10 a.m., or 12:30 to 3:10 p.m.
The preschool program is open to all families that live within CCSD 89 boundaries. Tuition is $328 per month.
For new preschool students that receive an acceptance letter, registration will open on February 19. Returning preschool students do not submit pre-enrollment information and will register with other returning students.
Registration for the 2020-21 school year will open to new students in February. Registration for returning students will open in April. More information about registering will be shared closer to February.
More information about CCSD 89 preschool is available at www.ccsd89.org/preschool
Posted: December 17, 2019